PALFINGER PRODUCTS OVERVIEW
Worldwide, PALFINGER stands for the most innovative, reliable and cost-effective lifting solutions for use on commercial vehicles and in the maritime field. With our technological expertise and experienced staff, we set quality benchmarks in the industries in which we operate. PALFINGER is regarded as the leader in technology and innovation in its sectors.
PALFINGER is number one worldwide for loader cranes, marine cranes, wind cranes and container handling systems. Moreover, the company is a leading specialist in timber and recycling cranes, tail lifts, truck mounted forklifts and high-tech railway systems. PALFINGER aspires to be the service champion in the industry.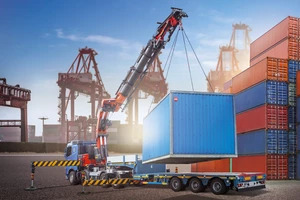 LOADER CRANES
The hydraulic knuckle boom crane is PALFINGER's core product.
Loader cranes help to load and unload trucks and other vehicles. Lorry cranes make an impression thanks to their operator friendliness and high level of cost efficiency. Various equipment (rope winch, rotator, gripper, crane fork) expands the loading crane's field of application.
With more than 100 models the company is the world market leader in this segment. The most important industries include: construction, transport logistics, emergency services, local authorities, waste management, mining and the inspection/maintenance/cleaning of structures, buildings and large machines as well as leasing and rental business.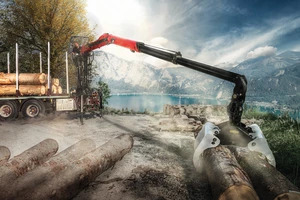 EPSILON TIMBER & RECYCLING CRANES
Impressive performance in forestry, recycling and construction  – with EPSILON, you have everything under control, you can work at the highest level. For decades, the PALFINGER EPSILON brand has represented better solutions and cranes with exceptional reliability.
Handling timber, recycling material and construction material demands a great deal from people and machinery. The tough design, finely tuned controls and array of solutions unique to EPSILON are intended to make work easier and more efficient.
_____________
FORESTRY
WOOD HAULAGE
C-SERIES
The compact class of EPSILON cranes covers lifting capacities of seven to eight tonne metres.
M-SERIES
The medium-duty class of EPSILON cranes covers lifting capacities of 10 to 13 tonne metres.
Q-SERIES
The upper end of the medium-duty class of EPSILON cranes covers lifting capacities of 15 to 18 tonne metres.
S-SERIES
The heavy-duty class of EPSILON cranes covers lifting capacities of 22 to 30 tonne metres.
_____________
RECYCLING
SCRAP MANIPULATION
From remote control to rear top seats and side-mounted top seats, EPSILON has a ready-made solution for customers.
The protected, internal hose guide via EPSCOPE and EPSLINK protects the hoses against damage, even when the boom is used for handling scrap.
CONTAINER HANDLING
EPSILON cranes for handling recycling containers offer an impressive array of options, such as remote control and a standing platform, that make the crane a real container specialist.
_____________
CONSTRUCTION 
GRAB CRANES ON TIPPERS
EPSILON cranes are proper for applications with clamshell buckets, especially because of their good performance in loading and unloading.
L-cranes have a long main boom and are characterized by their speed and excellent hook clearance.
TIPPER-Z cranes have the ideal working geometry for the buildup on tipper chassis and the application with clamshell buckets.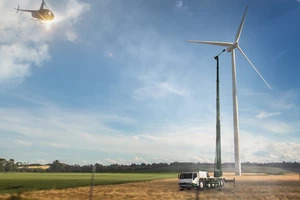 ACCESS PLATFORMS
With truck access platforms from PALFINGER Platforms, PALFINGER offers the most innovative lifting solutions at the highest technological level. PALFINGER access platforms make an impression with their safe and reliable height access technology that is of outstanding quality.
PALFINGER is the only manufacturer worldwide to offer both non-insulated and insulated platforms reaching working heights of between 13 m and 90 m for chassis weighing between 3.5 t and 60 t. PALFINGER access platforms are thus optimally adjusted to the relevant working range. The most important industries include: leasing and rental business, local authorities, landscaping/gardening, energy supply and the cleaning of structures, buildings and large machines as well as the maintenance and repair of wind turbines.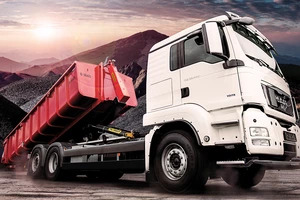 HOOKLOADER AND SKIPLOADER
PALFINGER Hooklifts is the most extended brand of lifting equipment designed for movable containers.
We offer the widest range of hookloaders for removable skips. For more than 40 years, PALFINGER offers solutions for the specific needs of its customers throughout the world. The quality and safety of our products are our priority. Certified ISO 9001 and ISO 14001, the satisfaction of our customers and partners as well as our environmental responsibility are always in the foreground. The total quality of our welding is defined by our ISO 3834-2 certification. Industrial organization, compliance and certifications standards ensure the excellent level of quality and reliability of our hookloaders in all situations. This level of quality and finishing allows us to currently be the world leader in hookloaders. The functional design of our hookloaders and skiploaders ensures simple use and low maintenance. We offer a durable product and good operational profitability of your equipment. The worldwide distribution network ensures fast and reliable service.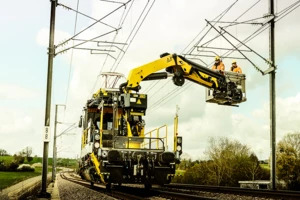 RAILWAY SYSTEMS
Optimum efficiency is achieved when PALFINGER railway units are used in combination with each other.
PALFINGER railway systems are uncompromisingly designed for railway applications. Close collaboration with the vehicle manufacturers results in perfectly matched units, thereby ensuring the optimum maintenance vehicle with unparalleled features.
This means, for example, that all work positions can be reached simply, quickly and safely when installing and maintaining overhead contact wires. By simultaneously using a positioner which is remotely controlled from the platform, the pressure on the anchor points of the contact wire and carrying cable can be relieved and work can be carried out on insulators and mounting brackets. If another crane is used in addition, then even the heaviest components such as the overhead contact wire masts or automatic tensioners can be replaced in record time. System solutions include a number of optionally matched units.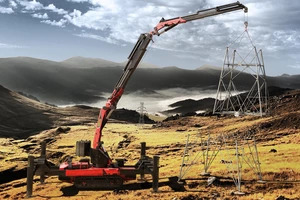 CRAWLER CRANES
The Solution for particular usabilities
The PALFINGER crawler crane is an all-rounder for a variety of different areas of operation. The special feature of this crane is on one hand its exceptional cross-country mobility – the crawler chassis, its powerful drive and its extra ground clearance allows the use on difficult terrain.
On the other hand, this crawler crane stands out with its compact dimensions and its areas of operation under limited space conditions. This facilitates working in urban spaces or in industrial environment like for example in production halls.